I never really know what to say on pages like this, so I'll just tell you some things about me that seem important to me. I have many interests across a wide variety of fields and like to call myself 'chronically curious'. Let's start with my professional interests and go on to personal interests later. There will be lots of text here, so feel free to ignore most of it. I'll bold or link the important parts.
Mastering
First off, I'm a Mastering Engineer, technically I'm Chief Mastering Engineer at Nick Landis Mastering. Previously, I was the Senior Mastering Engineer at Terra Nova Digital Audio, Inc. I've worked on over 4,800 albums in my role helping musicians finish the last creative step in making an album and the first technical step in manufacturing and/or distributing that album to their fans. I am humbled by each and every client that trusts me with their music and allows me to guide them through this process.
Web Development
Secondly, I do web stuff as a freelancer. I say 'web stuff' since its a bunch of things I do in this space, like building websites or helping clients setup hosting. Primarily I work with a content management system called Drupal. I've been working with Drupal since 2010 and built my own website with it. I help other people get websites that do what they need to do without breaking the bank on hiring someone to do everything for them. By building tools that a client needs and showing them how to use those tools themselves makes a website within reach of almost any budget. I work by myself for most smaller projects and I also get work on larger sites through some agencies that I contract through. Those agencies are Multimedia Partners and Umbrella Media among others. For me, the Drupal community has been awesome and it is one of the main reasons I decided to work primarily with this technology.
Professional Memberships
Next, I'll talk about some of my professional affiliations and leadership opportunities. First is the Audio Engineering Society. Currently, I am the Chair of the Central Texas Section of the AES. Last term I was co-chair. Previously, I was involved in college with the Texas State Student Section and was elected Vice President for the year I was involved as a student. That section had dissolved under lack of attention and I was part of the effort to restart the student organization. Second is The Recording Academy. They started a special university-student program called Grammy U for students seeking careers in the music industry so I joined. Within a year, I qualified for full voting member status and continued to become the first Grammy U member elected to the Board of Governors. I served two terms consecutively from 2009 to 2013 and another term from 2014 to 2016. During that time, I was also elected as the chapter's Vice President for the 2012-13 term. The third is The Texas Wesley Foundation Board of Trustees. The year I was brought on, they began a building project. I was asked to join for my expertise in the audio sector to help in building the worship and performance spaces. In the second year, I was elected Treasurer and continue my service while we build a 17-story mixed-use building in Austin's west campus area.
Education
Fourth on this list are my activities having to do with education. Currently, I am adjunct faculty at Austin Community College in the Music Business Production & Technology department. My class is a physics lecture on audio-frequency acoustics. I frequently guest lecture for Texas State University and Austin Community College. Also, I have previously lectured at various other educational institutions like Mediatech Institute and The Recording Conservatory of Austin. Other than just one-day guest lectures, I have taught as a Visiting Assistant Professor at Texas State University in the Sound Recording Technology program of which I am an alumnus.
Faith
Finally, anyone that knows me and my family knows that I have a deep connection to The United Methodist Church. I have had the opportunity all through college and into my adult life serving as a musician at several churches. I played guitar or bass almost every weekly in worship from 2004 until the COVID-19 pandemic across a few different churches. Once things shut down for the pandemic, I was a consultant and speaker for the Rio Texas conference doing a seminar on the technical challenges to overcome in holding a hybrid worship service. I continue to consult churches in the central Texas area from time to time.
So that's most of what I've been doing.
The Terra Nova Era
December 10, 2004, is the day I first met and worked with Jerry Tubb, and it is one of the days that changed my life forever. We were mastering an album called Shue's Cafe by Kris Kimura and this picture was taken during that session. The very next summer, I would be Terra Nova's first intern and quickly became a permanent part of the team. There is an interesting story around this and I frequently tell that story when I speak publically about my entrance to the music industry.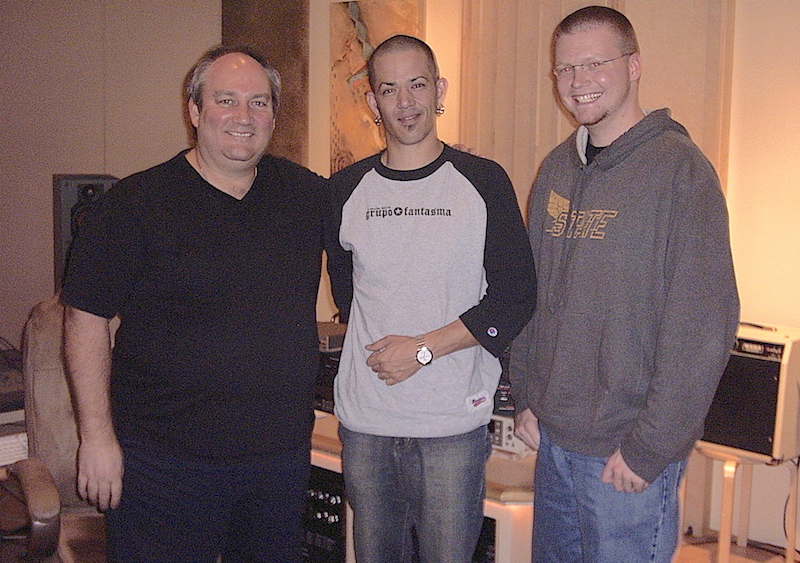 Pizza
I love pizza. Period. Full stop. Nothing else needs to be said about this, but I will elaborate. I like eating pizza, making pizza, talking about pizza, going to new places that make pizza, really, anything about pizza. I'm always open to hearing about new pizza places, recipes, or just general debate about styles of pizza.
Mountain Biking
This is probably my newest interest of the list here but certainly not the least. Nothing compares to getting out in nature, away from everything, and challenge yourself mentally and physically on the trail. I find it a great way to keep my interest in getting some exercise too.
My interest in photography stems from a previous romantic attachment and some of the skills I gleaned while observing, asking questions, and reading user manuals. I have a semi-pro DSLR along with a 35mm film camera that I'm not even sure where to get the film developed anymore. You can see some of my photos on my Public Flickr Albums.
Video Games
I got my first video game console in the 1980's. It was a Nintendo Entertainment System and it came with Mario Bros., Duck Hunt, and some track and field game that never really worked right for me. I've gone through the generations of consoles continually enjoying the time I spent solving puzzles and working on strategies to defeat my opponents. I was on an intramural Halo team in college and on a semi-pro MGL team for Rainbow 6 Vegas. I still enjoy playing whatever the new tactical shooter out there is when I can.