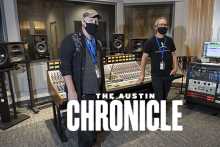 The Austin Chronicle's music writer, Dan Kois, recently visited ACC's Music Business Performance Technology department. He was impressed by what he saw and wrote about it in an article published in the Features section of the publication. In that article, ACC is celebrated as the unlikely place for a seriously world-class recording studio. Here are some highlights:
Walking through the vast assets of the Music Business Performance Technology (MBPT) department at ACC Highland, during a tour in June, I'm struck with three thoughts.

There's no facility in Central Texas, educational or otherwise, that compares to the scope and quality of this.
I can't believe I'm in the lower level of what used to be Austin's shittiest shopping mall.
This is the community college music trade school complex that Austin deserves.

Kevin Curtin - The Austin Chronicle
ACC is ahead of the curve when it comes to preparing its students for the evolving music industry. The Austin Chronicle article shares with readers just how important it is for young artists to understand all aspects of their craft, from writing songs to performing live on stage and even working in their own recording studio.
Read the entire article on The Austin Chronicle Website