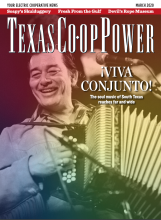 Santiago Jiménez, Jr. is seen as a standard bearer of deep conjunto tradition and his latest album, "El Chief", is no exception. This record is a collection of his father's original songs and Conjunto standards produced by Adam Ahrens at Magnolia Recording Studio, released by Bull Calf Records, and mastered by Nick Landis. This recording is sparse and traditional featuring voice accompanied by accordion and bajo sexto all acoustically recorded.
This month, Texas Co-op Power Magazine featured Flaco Jiménez on the cover and the cover story, "¡Viva Conjunto!" highlights the deep roots of the music of the Rio Grande Valley. Even the subtitle, "The soul music of South Texas reaches far and wide" speaks to breadth of the music of the region. Also featured in this article is Flaco's brother, Santiago Jiménez, Jr. and several other musicians keeping the tradition of Conjunto alive.
Family Tradition
Santiago Jiménez, Jr. continues his family's musical tradition. His father, Santiago Jiménez, Sr. (1913–1984), was a well-known musician and formative in the early years of the Conjunto genre. Santiago Jiménez, Sr., was inducted into the Tejano Music Awards Hall of Fame in 1993 and the Texas Conjunto Music Hall of Fame and Museum in 2003. His grandfather, Patricio Jiménez, was also an accordionist and dance musician from Eagle Pass. Currently, Santiago Jiménez, Jr. and his brother, Flaco Jiménez, carry on the tradition of Conjunto music together.
Awards
Santiago Jiménez, Jr. has received three Grammy nominations to date: one in the Best Mexican-American Album category for Corazon De Piedra (1993) and two in the Best Mexican-American Performance category for Familia Y Tradicion (1990) and Santiago Strikes Again (1985). In 2000, he was awarded the National Heritage Fellowship from the National Endowment for the Arts, and in 2015 received the National Medal of Arts. In 2001 he was awarded the Texas Medal of Arts alongside his brother, Flaco, country musician Willie Nelson, and pianist Van Cliburn.