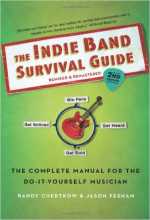 This week, the authors of The Indie Band Survuval Guide, Randy Chertkow and Jason Feehan, spoke at the Grammy Pro Business Summit in Austin. They gave an information-dense presentation of basically everything a band trying to make money needs to know. It was so informative and I thought I would share one of the lists they called "How to start a music business for $0." Basically, it is a list of no-cost avenues to make money with music. These services are a low-risk way to get into the market, but if your volume increases you will probably want to change from one of these.
They gave comprehensive step-by-step directions to get your compositions and sound recordings published, copywritten, registered, etc... I've never seen it quite so clearly laid out all in one place. The feedback from the presentation was awesome! Anyways, on to the list.
No-cost money-generating places to get your music:
There was so much great info at the presentation. I'm sure their book is equally as informative and awesome. If you want to buy a copy of their book, click the pic to the right and it will take you to Amazon to buy a copy. Today, there are used copies for $5 + shipping, what a deal! I wish we had more time to hear more they had to say.