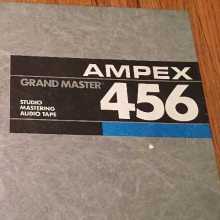 As formats change and the media they're recorded on ages, it becomes increasingly difficult to transfer the information off of those formats into new, more modern formats. That's basically what archival and restoration is: transferring recordings from one format to another. Usually, the transfer is from an older format on more fragile media to something newer and easier to work with. Some of the most pressing examples of needing these services are reel-to-reel tapes, specifically the 456 formulation manufactured by Ampex in the 1980's through the mid-1990's. This media is particularly vulnerable to 'sticky-shed', where the adhesive holding the iron oxide (this is the part with the magnetic information) to the plastic carrier (what gives tape its strength) absorbs moisture from the environment it is stored. This process is called hydrolysis. Deterioration of this type will eventually get so bad that the tapes are unplayable and the recordings are lost forever. This is exactly why we have our archival and restoration services.
Analog Tape
Tapes with sticky-shed are not always lost. We are able to remove that moisture through a specialized 'baking' process. These tapes can be incredibly fragile and you may only get one pass to get the recordings off of the tapes so it is of utmost importance to be sure it is done right. For decades, we have specialized in the transfer of these types of tapes. You can rest assured that when you bring your archival and restoration project to Terra Nova it will be done with the highest quality and attention to detail.
Diagnostic
Once you have a project that is ready for archival and restoration, the first step is to see if it is able to be transferred. We offer complimentary 'visual diagnostic' of any potential project. This only includes visual inspection of the media and is not a definitive yes or no on the feasibility of transfer; it is only to help us estimate the project and get a better feel for what shape the media is in before it starts costing money. The only real way to know is to get the tapes up on the machine and see how they react.
DAT
Reel-to-reel tapes are only one of the types of media we can transfer. There are many analog and digital formats that we offer these services for. Digital audio tape (DAT) is a commonly-used format for final mixes and masters throughout the 80's and 90's and those tapes are aging too. We have several machines that are able to make straight digital transfers of this format making bit-for-bit direct transfers ready for archival or remastering. We also have a splicing block for broken DAT tapes and have successfully repaired and transferred a broken tape before.
CD
Its hard to believe we are talking about CD's in an archival and restoration context, but it has been over 36 years since that format has been released. Compact discs can also degrade and we are capable of recovering severely degraded discs. Burned discs will become less playable over time as the dye that holds the information dries out. We have hardware and software that will analyze the burn quality and give a detailed report on the readability of a disc. These same tools will extract information more reliably by spinning down the read rate and attempting multiple reads to recover the information more accurately. Additionally, scratches can obscure the information from the laser attempting to read. We have a compound polishing rig that will remove scratches and allow previously unreadable discs to be recovered.
Getting an estimate
The more information we have from a client about a project the more accurate the estimate can get. Things we would need to know include the following:
Media: What media is the recording on. This is a physical description. For example, 1/2-inch wide tape on a 10-inch diameter reel. There may also have a length in feet for some audio tapes that will help determine how long a recording is.
Format: What format is the recording. This is how the information is stored on the media and usually not distinguishable visually, so you will have to rely on a label, notes, or other diagnostics to discover this. For example, this would include how many tracks are on the tape, how they are laid out on the tape, what speed the tape was recorded at, what standard was used for level, what emphasis curve was used to encode the information, if noise reduction was used, and which direction the tape is stored. You may see labels that would include some or all of that information like "stereo, half track, 15ips, 250nW = 0VU, NAB, Dolby A, tails out" would be a pretty complete label of the format.
Content: What you expect to be on the recording. This may be a list of songs with times and other information including the length of the entire recording.
Age: When was the recording made. Sometimes this can help determine information about the media and format if the label is lacking in some regard. Sometimes there is a date on a label or sometimes we can tell by what box a tape comes in and narrow it down to a decade or so.
Intent: What do you plan to do with your transfers? This information can help us know what formats you will need form us and what will be easiest for you to achieve those goals. For example, remastering for release on a different format or copies for a family of an estate would have different goals in mind.
The List
Now you have an idea about the archival and restoration process and might have specific questions, and now on to the details. Here is the list of media and formats we can transfer here at Terra Nova:
Analog
Reel-to-reel 1/4"

half-track stereo
quarter-track stereo
8-track

Reel-to-reel 1/2"
Vinyl or Acetate Records

12" LP, 10" EP, 7" singles, and 16" radio transcription discs
33 1/3 rpm, 45 rpm & 78 rpm

Cassette
Digital
DAT (16 bit and 24 bit HR DATs)
PCM-701 (16-bit audio recorded on the video channel of VHS or Beta)
CD
This list is formats and media we do not directly have at Terra Nova, but we have a relationship with studios with these machines and can handle the transfers for you:
Analog
Reel-to-reel 1/4"
Reel-to-reel 1/2"
Reel-to-reel 1"

24-track
16-track
8-track

Reel-to-reel 2"
Digital