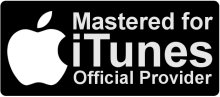 Independant artists have difficulty getting into the Mastered For iTunes program, but if you wanted to try to deal directly with apple to get in here are the requirements directly from Apple. Even if you meet the requirements they may still referr you. On top of that, they also have payment thresholds and you may never get paid if you don't meet the threshold for your first payment. And now the requirements.
Technical Requirements:
A Mac running OS X 10.5.8 or later
At least 512 MB RAM
QuickTime 7.0.3 or later. This is so you can encode and deliver content using our dedicated software.
For optimal performance, use an Intel-based Mac running Mac OS X 10.5 or later. However, PowerPC G4 and G5 are also supported.
At least 20 GB of available hard drive space (more for larger catalogs) is recommended.
A broadband internet connection with an upload rate of 1 MB/sec or faster is recommended.
To deliver music video or concert film content to the iTunes Store, you must use an Apple-approved encoding house. Encoding houses typically charge fees for their services. Learn more about the differences between encoding houses and aggregators.
Content Requirements:
At least 20 albums in your catalog
UPCs/EANs/JANs for all products you intend to distribute
ISRCs for all tracks you intend to distribute
Financial Requirements:
A U.S. Tax ID
A valid iTunes Store account, with a credit card on file
So, most go with an agregator. Here is the place you can search for agregators that are approved for the MFiT program.