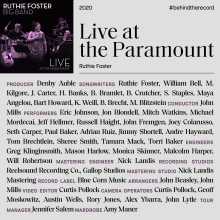 I'm very excited to announce my first GRAMMY® Nominated Album mastered here at Nick Landis Mastering. You'll find FYC information and complete credits to everyone involved in the project below. Ruthie Foster is nominated in the Best Contemporary Blues Album category for the 63rd Annual GRAMMY Awards® which will be televised live from the Staples Center in Los Angeles Sunday January 31st, 2021 on CBS. You can view this album in my Client List section of my website too.
This album can be listened to in a variety of places including: Spotify, YouTube, Apple Music, Deezer, or Pandora, among others. Physical copies can be purchased via PortMerrch.com
Awards & Achievements
#1 Billboard Blues Album Chart
Nominee - Best Contemporary Blues Album, 63rd Annual GRAMMY Awards®
 
Credits
Released May 15th, 2020 on Blue Corn Music
Executive Producer: Denby Auble
Postproduction
Mixed by Will Robertson at Gallop Studios in Brookhaven, GA
Mastered by Nick Landis at Nick Landis Mastering - Austin, TX
Production
Recorded on-location January 26th, 2019 by ReelSound Recording Co.
Front of House Engineer: Jennifer Salem
Recording engineers: Malcolm Harper, Greg Klinginsmith, Mason Harlow, and Monica Skinner
Musicians
The Ruthie Foster Big Band is:
Video Production & Other Credits
Video Editor: Curtis Pollock
Camera Operators: Curtis Pollock, Geoff Moskowitz, Austin Wells, Rory Jones, Alex Ybarra, and John Lytle
Tour Manager: Jennifer Salem
Wardrobe: Amy Maner
Did I miss something? You see a link here that is incorrect? Did I spell your name wrong? Let me know! I'd like to have the most accurate information I can here. Other Credit listings on AllMusic.com and Discogs.com
News & Press
I featured "Live at the Paramount" on my FaceBook page during the #BehindTheRecord advocacy event.
Join me in recognizing all music creators who work #BehindTheRecord, an initiative to #GiveCredit where credit is due! These are the amazing people behind the album Live at the Paramount, thank you all! Let's celebrate creators who work behind the scenes & bring music credits back. #WeAreMusic

- Nick Landis
The big band's punchy horns lend a Stax/Volt vibe to a rendition of Foster's original tune "Runaway Soul," before the singer engages in a buoyant call-and-response dialogue with fiery tenor saxophonist Joey Colarusso. 

- Bobby Reed
A three-time Grammy nominee who seems destined to win one eventually, Foster organized something special for her ninth release on the Houston-based Blue Corn label, taking the stage with 18 musicians drawn largely from Austin's richly talented jazz scene.

- Peter Blackstock
Blues Matters - Interview & Review
But it's the last two numbers that are standouts. Fly Me To The Moon is a brilliantly arranged big band tune which Ruthie has great fun with. The grand finale is the murder ballad cover, Mack The Knife which is astounding. Ever-evolving her style suits her on this fine album, a very different sound and will attract more fans to her eclectic music style, exquisite sound and arrangements throughout.

- Colin Campbell
Ruthie Foster is a 100% no-foolin' force of nature with vision, talent, and soul to spare. Get close with this record and let her put you back together.

- Mike O'Cull
Ruthie proves herself to be as good at this type of music as she is in soul, blues or gospel styles with her wonderful voice and warm personality. 

- John Mitchell
Pop Matters Magazine - The Ruthie Foster Big Band Swings the Best Live Record of the Year So Far
It's so tough for some artists to reproduce the energy of a live performance. But the Ruthie Foster Big Band's magnanimous appeal inflates any potential languor. Together they indisputably position Live at the Paramount as one of the best live albums of 2020.

- Elisabeth Woronzoff
The charts are all well-planned & well-recorded. The show has 10 horn players, a guitarist, keyboardist, bass, drums & 3-backing vocalists who dazzle throughout.

- John Apice
No Depression - Even in Front of Her Big Band, Ruthie Foster Stands as Singular Voice
She seems to glide along a few feet off the ground on her rendition, little scats sneakin' in every few bars as she heats up the joint, getting brassier and Satchmo-ier as the song progresses. It's the closer, naturally, 'cause nobody, not even her, could follow this one.

- Grant Britt
Once again the sensational Foster catches us off-guard with this wonderful Big Band release. You have to hear this.

- Richard Ludmerer