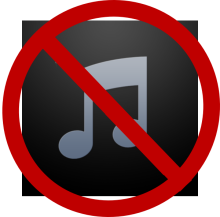 Recently, I had a client that ran into some problems with the cover art for their project. It seems iTunes has some rather stringent (in my opinion) requirements for the cover art. Part of me understands that there needs to be some requirements or checks in place and I agree with Apple that people should not be 'misleading' in the representation of their music. But, I felt this particular case may have been a bit ridiculous. For those of you that want to know, here are the specs that I've found.
These things are required and will prevent you from releasing your music on iTunes:
cover art is required
it must be a perfect square
JPEG or PNG file formats and in the RGB color space with a minimum size of 3000 x 3000 pixels (through some distributors less is ok, but this is from Apple)
the text on the artwork must match the album title and primary artist
the primary artist's name must be as large or larger than any other name on the artwork
artists names who are not actually performing cannot be included
I also found the list of things you cannot do. You may not do these things:
include a URL
include contact info
include pricing
anything that suggests a format (eg: CD, Vinyl, etc...)
cut off text or images
an image in one corner with white space
names of digital stores or their logos
words that have a timely meaning like "New" or "Latest" or "Exclusive"